Ryan Hokanson, D.C.
Doctor of Chiropractic
Dr. Ryan is a native of northern Minnesota. He attended
Roseau High School
and received his Bachelor of Science degree from the
University of Minnesota Duluth
. He graduated in 2000 from
Northwestern College of Chiropractic
in Bloomington, Minnesota.

Dr. Ryan was an associate doctor at Advanced Medical of the Twin Cities before relocating to the Brainerd Lakes Area. He owned and operated Hokanson Chiropractic and Injury Center in Brainerd before joining HealthFirst Chiropractic in 2004 as Clinic Director of the Brainerd location. In 2006, Dr. Ryan purchased HealthFirst Chiropractic of Brainerd and changed its name to Select Life Chiropractic.

Hunting, Fishing, outdoor activities, as well as a strong school system and small town atmosphere drew Dr. Ryan and his wife Patsy, to the Brainerd area. An avid sports fan, Dr. Ryan enjoys watching and playing sports, especially hockey. He has experience as a youth hockey coach and also as an on-site chiropractor at sporting events.

Dr. Ryan enjoys treating people of all ages, from seniors to infants. He was drawn to chiropractic after having his own chiropractic "miracle" and loves having the chance to help others without the use of drugs or surgery.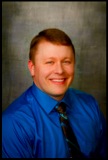 Aaron Hokanson, D.C.
Doctor of Chiropractic
Dr. Aaron was born and raised in the small northern Minnesota town of Roseau and graduated from
Roseau High School
in 1997. He graduated from the
University of Minnesota Duluth
in 2001 with a Bachelor's of Science in Biology with a minor in Chemistry. He continued his education at
Northwestern Health Sciences University
in Bloomington and received his license as an Emergency Medical Technician in 2004 and graduated as a Doctor of Chiropractic in 2005. Dr. Hokanson finished his externship in Milbank, South Dakota prior to moving to the Brainerd Lakes Area in 2005. He worked as an Associate Doctor for HealthFirst Chiropractic of Baxter and HealthFirst of Pine River from 2005-2008. In April of 2008, Dr. Hokanson purchased the HealthFirst Chiropractic of Baxter clinic and formed Back to Basics Chiropractic. In 2014, Dr. Aaron merged his practice with Dr. Ryan's under one name, Select Life Chiropractic. In July of 2016, Dr. Aaron received his license and board certification in acupuncture and has been combining eastern medicine with chiropractic to help people get better faster.

Dr. Aaron was drawn to the Brainerd Lakes Area because of his love for the outdoors as well as the small town atmosphere it presents. He has been active in the community and enjoys volunteering and speaking to the public on health and wellness topics. When he's not busy caring for his patients, he enjoys hunting, fishing, camping, coaching hockey, and playing old men's hockey as well as spending time with his wife Katie and their sons Parker and Cole and their new puppy Teela.

Dr. Aaron has experience as an on site first responder and EMT as well as an on site chiropractor at sporting events and has also worked with professional athletes. Although he has a strong interest and background in sports, his practice focus has shifted to family care and he enjoys treating patients of all ages, from newborns to the elderly. Dr. Hokanson chose chiropractic not only as a profession, but also as a lifestyle due to his personal experiences with chiropractic, and his desire to serve people and the community.

Tara McCapes, CMT
Certified Massage Therapist


Tara is a 2012 graduate of the massage therapy program at
Minnesota State Community and Technical College
- Wadena campus. She has spent most of her massage career helping patients in a chiropractic setting and has done some independent contracting as well. Tara enjoys providing natural care through massage therapy and loves to be part of a team where she can design each massage session to suit her client's specific needs.


Miranda Larson
Chiropractic Assistant

Miranda is responsible for scheduling, answering phones, billing, and assisting the doctors. Miranda graduated from Brainerd High School in 2011 and married her high school sweetie, Cameron. Together they share 3 cats and 2 dogs. She enjoys lake days, the dog park, and going to the library. Miranda absolutely loves working at Select Life Chiropractic and seeing the smiles of each and every patient! In her own words, "Miranda rocks, she is the best!"

Mara Peterson
Chiropractic Assistant


Mara is our newest addition to the front desk and is also responsible for scheduling, billing, and helping the office run smoothly. More info to come!